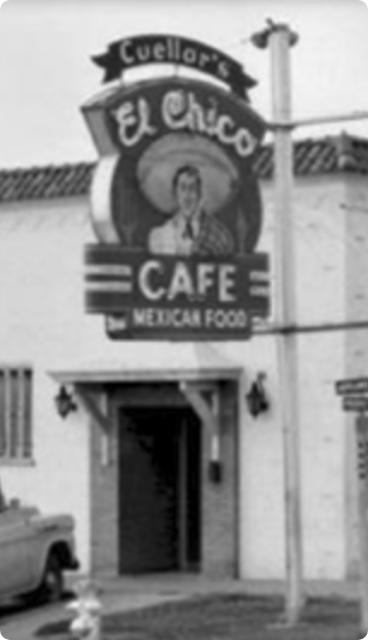 Our Story
The story begins nearly ninety years ago, in 1926, when Adelaida Cuellar's homemade tamales drew crowds at a county fair outside Dallas, Texas.

Adelaida and Macario Cuellar immigrated to this country from Mexico in the early years of this century. Like so many people who have come here, they were looking for a better life. And for that better life, they were willing to work very hard. The Cuellars had a little farm in Kaufman County where there was plenty of hard work for all, but not very much money.

So Adelaida Cuellar decided she was going to open a little stand at the Kaufman County Fair in that year, selling chili and tamales. You have to understand, Señora Cuellar made the best chili in the world and very good tamales.

Anyhow, the people who came to the fair ate them like they were going out of style. But the truth of the matter is, they were coming into style. The fair came to an end, but the demand for Mama Cuellar's cooking did not. With the help of her twelve children, her crowd-pleasing recipes and unlimited patience, she opened a small cafe.

In 1940, five of her sons moved Mama's kitchen to Oak Lawn in Dallas, Texas. They named the restaurant El Chico, and it quickly became a Dallas tradition. It wasn't long before the brothers built restaurants throughout the Dallas-Fort Worth area and eventually, the entire state.
Adelaida Cuellar put aside her chores to pose for this photo with her children (L to R)
Isabel, age 2, Manuel, age 1, and Amos, age 4.
Adelaida Cuellar started serving tamales at the Kaufman County Fair.
Willie Jack Cuellar (left) and Frank Cuellar Sr. (right) audition on the front porch of
their parents home in Kaufman, Texas for the honor of posing for the character on the
El Chico sign.
Gilbert Cuellar, Sr. and two El Chico cooks having fun in the 1940's.
Located in the Lakewood area of Dallas, Texas, El Chico Restaurant #2 opened in
1946 for Lakewood residents who wanted "an El Chico closer to home." By 1950,
brothers Alfred, Frank and Willie Jack joined Gilbert Sr. and Mack in the effort to
expand El Chico beyond Dallas, Texas.
El Chico Restaurant #3 opened in September 1947. Located on Camp Bowie Road
in Forth Worth, Texas. It operated for over 30 years until it was forced to close due
to widening of the highway.
After World War II when tin had become available again, the Cuellar Brothers opened
this Canning Facility at 162 Leslie Street in Dallas, Texas, making it possible for people
outside the Dallas/Ft. Worth area to experience the true Mexican flavors of Mama's
family recipes. The products were so successful it convinced the family to expand the
restaurants throughout the Southwest. Pictured here in 1949 (L to R) Alfred Cuellar,
Gilbert Cuellar Sr., Mack Cuellar, Plant Manager Glen Jackson, and Frank Cuellar, Jr.
Frank Cuellar Sr. gives the O.K. for daily tamale production at one of the El Chico's
in Shreveport, Louisiana.
Cuellar family members gather for a photo with the Matriarch and Patriarch, Adelaida
and Marcario Cuellar at a holiday gathering in 1951.
In January 1960, a new El Chico advertising campaign was introduced with the
theme, "Like Mama, like Son – True Mexican." The campaign featured the five
founders of El Chico as "Mama's Boys." The Cuellar brothers are still referred to
and remembered fondly by many as "Mama's Boys."
(L to R) Gordon McLendon, Sr., John Wayne and Frank Cuellar, Sr., pause at El Chico
Restaurant's open air café at the State Fair of Texas in 1964.
In July of 1966, El Chico was honored to cater a dinner in Monaco at the request
of Princess Grace (Grace Kelly), to celebrate the Centennial of Monte Carlo. In this
photo Princess Grace autographs a commemorative sombrero for Willie Jack Cuellar.
Georgia Governor Jimmy Carter is presented with a commemorative sombrero by
Frank Cuellar, Jr. at the grand opening of the El Chico Restaurant #54 in Atlanta,
Georgia in 1973.
The President and Nancy Reagan thank Gilbert Cuellar Jr. for the outstanding job
done by El Chico of catering the 1985 White House Congressional Barbeque. The
Vice President and Mrs. Bush were also in attendance.